Platinum Jubilee Celebrations - Thursday 2nd and Sunday 5th June 2022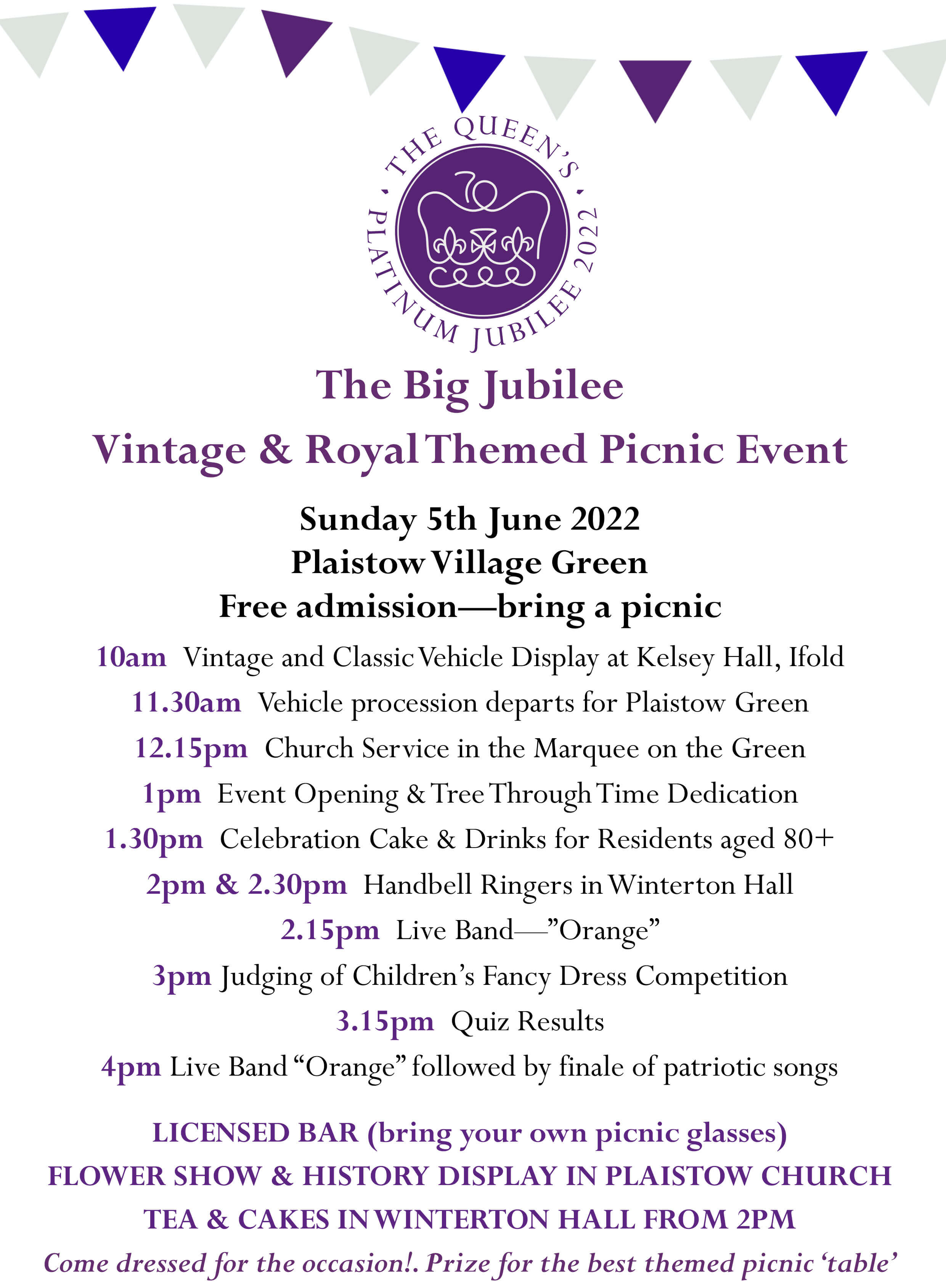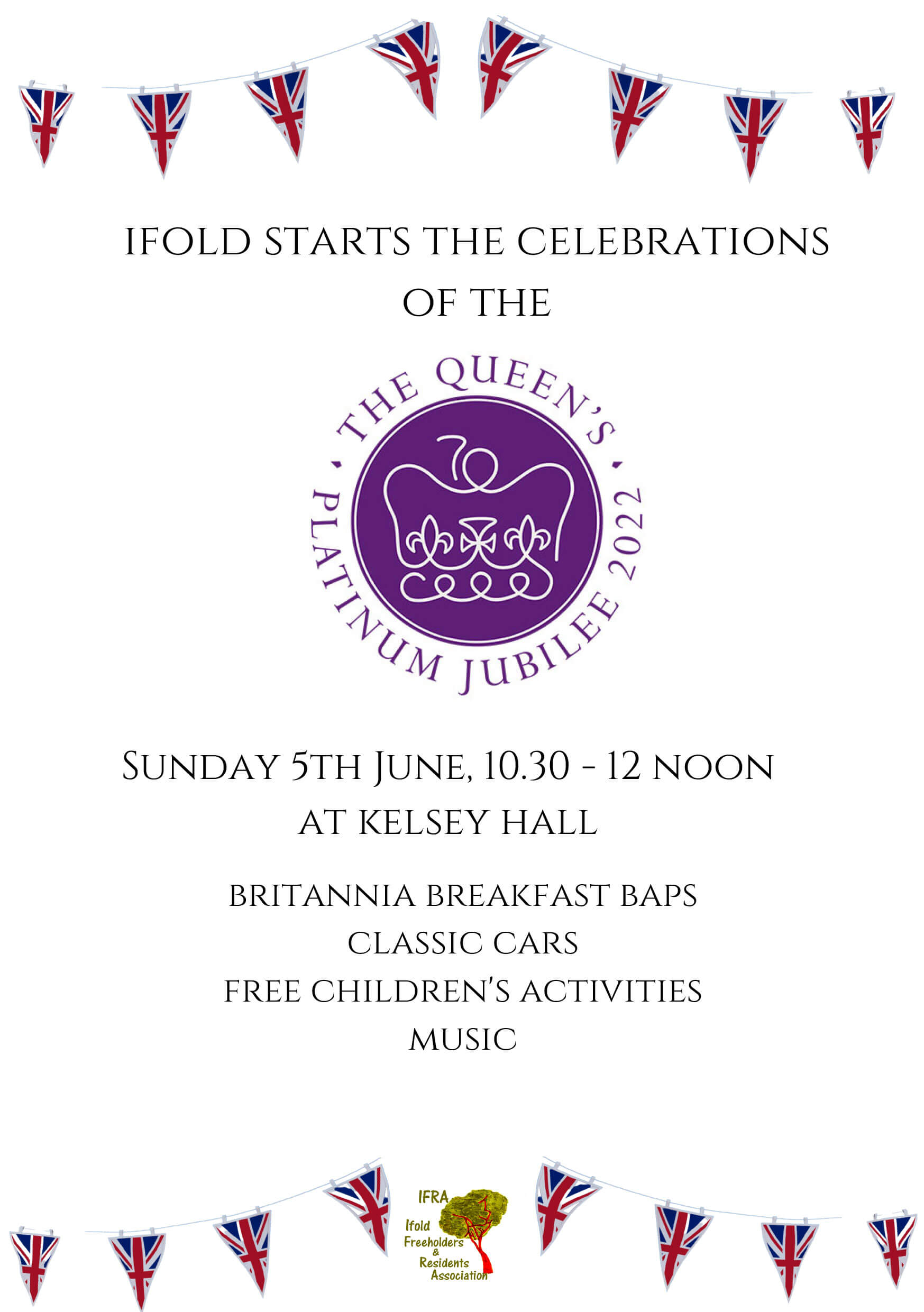 Plaistow and Ifold Parish Council are honoured to be hosting two events in celebration of Her Majesty The Queen's Platinum Jubilee.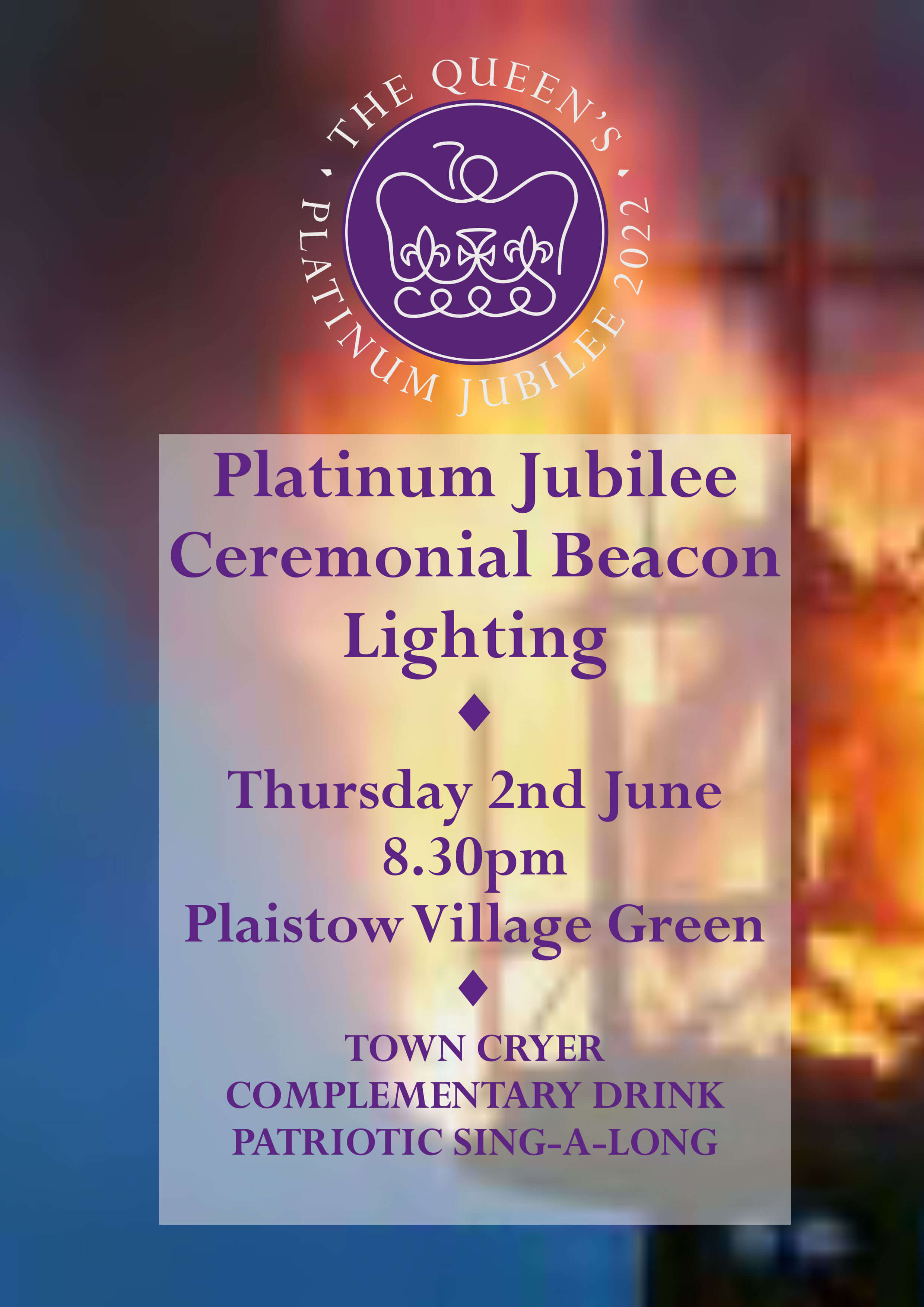 The Queen's Platinum Jubilee Beacons
Thursday 2nd June
8:30pm
The Jubilee Beacons is one of the official events of the Platinum Jubilee celebrations taking place over the extended bank holiday, from Thursday 2nd to Sunday 5th June.

The Jubilee Beacons will provide an opportunity for communities and people throughout the United Kingdom, Channel Islands, Isle of Man, UK Overseas Territories and the Commonwealth, to come together to celebrate this historic milestone and reflect on The Queen's 70 years of service.
There is a long tradition of celebrating Royal Jubilees, Weddings and Coronations with the lighting of beacons. A beacon chain, once used as a tool for communication, has now become a symbol of unity across towns, borders, countries and continents. In 1897, beacons were lit to celebrate Queen Victoria's Diamond Jubilee. In 1977, 2002 and 2012, beacons commemorated the Silver, Golden and Diamond Jubilees of The Queen, and in 2016 Her Majesty's 90th birthday.
Now, in 2022, you are invited to come together to participate in this national event. The Parish will join with over 1,500 communities within the United Kingdom and UK Overseas Territories, and light a specially commissioned beacon on Plaistow Village Green at approximately 9:30pm. The congregation will raise a toast to Her Majesty The Queen in celebration of her 70th year as our Monarch and Head of the Commonwealth.
The Big Jubilee Vintage & Royal Themed Picnic
Sunday 5th June
The Parish's Community Picnic will take place on Plaistow village green between 12 noon and 5pm.
The day's celebrations will begin at the Kesley Hall in Ifold, at approximately 10:30am, with family activities and refreshments whilst Classic Cars assemble prior to their procession to Plaistow at 12 noon.
A family church service, led by our Vicar Rev Clive Jenkins, will take place on the village green at approximately 12:15.
The day's highlights will include live music, flower display, history exhibition, handbell ringers, a royal quiz, and licensed bar.
The Guest of Honour will officially dedicate the Tree Through Time to Her Majesty The Queen and judge the children's fancy dress competition.
Children of all ages are invited to dress up as Kings, Queens, Princes, and Princesses –if you are a child at heart, then this is the competition for you! Enjoy designing and planning your spectacular outfit now!
Are you 80 years or over? Or perhaps you know someone who is? You are cordially invited to join together in the VIP area to enjoy a slice of Jubilee celebration cake, a glass of Champagne and reminisce about the excitement of the Queen's ascension to the throne in 1952 and coronation in 1953.
We look forward to warmly welcoming you on 5th June.
Both events are being organised by a dedicated Parish Council Working Group made up of representatives from the community, including the Church, Schools, Scouts and Girl Guides, Ifold Freeholders & Residents Association and Durfold Wood Residents Association.
This web page will be updated with information as plans progress ... watch this space, as they say!